So I have entered my 1st EVER tag swap on youtube. This particular tag swap is being hosted by
iowa2308
. If you scrapbook and haven't looked at any tutorials online I suggest her videos, they are AWESOME and have inspired me to create many projects.
The theme of this swap was vintage dress forms. We were to create a vintage style tag using any type of dress form. While vintage is normally what I don't do I thought this fun project would kick me out my comfort zone and force me to create something I normally wouldn't do. I must say I was surprised at how much I loved creating this "vintage" look.


If your interested in how I created this tag and the products I used keep reading for a tutorial.
I created a couple sketches at work as I was thinking up ideas and ended up with these 2 sketches that I based my tag around.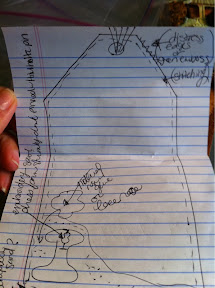 We were to use size 8 tags, and I looked in several stores and couldnt find the size so I ended up cutting mine with my cricut at 3 1/4" x 6 1/4" using my bags, tags, and more cricut cartridge.
Then, I selected my paper. I ended up by a few different style of paper and ended up using the one below. I picked up this paper at michaels.
I then embossed the edges of the tag with embossing powder in "copper tinsel"
Next, I used some sandy like material I bought at the scrapbook convention a couple years ago. I really wanted to use this and thought they turned out nicely on the tags.
This sandy like stuff comes in all sorts of different colors.It is by a company called
mudd puddles
. Click the link to go to their home page.
While at hobby lobby I went down the sewing aisle to see what else I could find for my tags. I found in the embroidery aisle these cute floss bobbins that was part of the inspiration and starting off point for my tag.
I wrapped brown floss around the bobbins and then used one of these cute little pins by Tim Holtz. The top is actually a clip that can hold a small note or picture.
Next, I had to find a dress form since this was a "must" to be included on the tag. I found this cute little dress form stamp at hobby lobby. I used my 40% off coupon and was able to pick it up for $3.
I stamped the images and then used my glimmer mist to color the white paper in colors that would match the rest of my tag. I also sprayed them with pearl glimmer mist (not pictured).
When the glimmer mist dried I used stickles in "cinnamon" to add details to the dress form.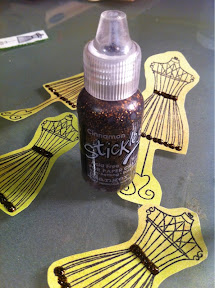 When hobby lobby had their ribbon spools on sale for 1/2 off I loaded up with lots of ribbon, mostly for my sisters baby shower album/guest book mini album I am going to make soon (she is having triplets! so I can't wait to get started on this project, stay tuned for the TRIPLET mini album) Oh, back to what I was saying about the ribbon. HAHA. I had these two style of lacy type ribbon that was perfect for my vintage tag.
Also included on my tag were these cute little flowers. I too picked these up at the scrapbook convention a couple years ago and had not used them until this challenge! YAY! and of course now I am in love with these flowers and had only 1 package but luckily the package has a website.
Mayaroad.com
.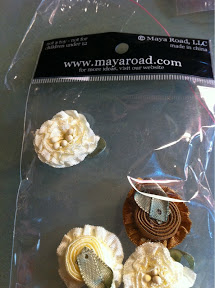 The bottlecaps I used I also picked up at hobby lobby when they were 1/2 off. They are by spare-parts.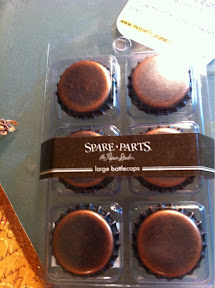 I had to complete 7 tags, 1 to keep myself and 6 to mail off for the swap. I think they turned out super cute and I actually suprised myself with what I accomplished.
Oh, I almost forgot. We had to put a pocket on the back of the tags with our info on it. And this is what the back of mine looks like. I used distress ink in "frayed burlap" to color the back of the tag and then added a fun little paper bag pocket I again got at hobby lobby for 1/2 off and added some decorative lace ribbon.
Then, I created some tags with my info on it to go in the pockets. I love the little tags thought they came out perfect while advertising my blog at the same time. (hopefully i will get more followers soon, when i get to 25 I will be doing a giveaway!)
Here are my little tags all in individual baggies so they won't catch on each other ready to mail. This swap I have to have mailed by Sept. 14, 2011 so stay tuned a couple weeks after to see what all tags I get back in the swap. (I can't wait!!!)
- Posted using BlogPress from my iPhone