So today was the BIG day! Lana went to kindergarten for the very first time. The picture below is of her all dressed and ready to go. But don't worry I took a bunch of photos from when she woke up so stay tuned for how her morning went.
This picture Lana was still half asleep. I told her she had to eat a good breakfast so she could learn lots of stuff. For breakfast she had chocolate milk (her favorite) cinnamon toast and strawberries and cream oatmeal. Look at her HAIR! this is what it normally looks like when she gets up. Since it is so curly it often looks like a giant FRIZZ ball!.
Below are pictures of her 1st school lunch I packed. Of course I had to include a cute little note to surprise her on her 1st day. Her lunch included fruit punch powerade, a ham, cheese and mustard sandwhich, grapes, string cheese, and a chocolate chip cookie.
Lana picked out her lunch box. She wanted little mermaid but we couldn't find a little mermaid one so her next choice was this princess lunch box.
She also picked out her backback. Purple, blue and pink with little flowers on it.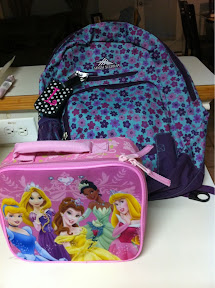 Here she is again ready to go to school.
Here Lana is in front of her school about to head in and begin her 1st day.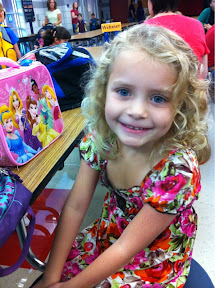 Here is Lana waiting in the cafeteria waiting for her teacher to come and get her to take them to the classroom. Each teacher has a table with their name on it so the kids know which class is theirs.
By this time Lana was getting a little annoyed with me taking pictures. Here she is sitting at her desk. When we picked her up this afternoon she was a little quiet but by the time we got home she was beginning to tell us about her day. She said they sang some songs and painted an elephant to hang in the classroom. She said she painted hers PINK. I asked her who she sat with at lunch and she said a bunch of boys. She said there were too many boys in her class. LOL
- Posted using BlogPress from my iPhone