Before I begin my post I apoligize for the numerous pictures in this post there were simply too many not to share and I still had about 20 I didn't post on here. I can get a little picture crazy sometimes.
Thursday after work I headed to pick up Lana from daycare then head over to Linda's house where I met my sister Mary and her daughter Summer. We decided to have an evening of crafting. This evening we decided to try making bedazzled wine glasses that were inspired from Linda's other daughters
Amber's Blog
.
First, to find some wine glasses. Linda found her some at the local goodwill while Mary got both of us some glasses at Ikea (6 for $4.99) and some larger ones for $1.99 that worked out perfectly.
Before getting started we had dinner, Linda made a simple but wonderful garden salad that was especially delicious with the garlic cheese i brought over that I had picked up at a little german grocery store in Muenster and froze.(FYI-cheese does freeze but will not be creamy to slice for crackers after frozen, however the frozen cheesse crumbled great for our salad). I left the remaining log of cheese at Linda's where I think Linda and Summer may had to fight over for the leftovers, haha.
Linda also made some wonderful mint tea. (see picture below).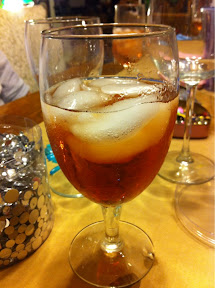 The picture above of the 4 of us turned out pretty good. We wanted to take a picture of all of us but Louis Dean was out and about so the only person left to take our picture was Lana. She did a pretty good job. I was laughing so hard in the picture because right before the Lana took the picture Linda said I don't know how this will turn out with a 5 year old taking the picture and I started laughing because I knew she was a pretty good little photographer.
In this picture Summer was getting her glue out ready to start her glass.
Here Linda was working on her wine glass.
This is the before picture of one of my glasses where I put liquid nails on the bottom and spread it out with a gloved finger.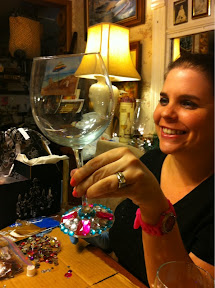 Here Mary is posing with her 1st glass she made where the rest of us then started cheering because the rest of us had completed 2 glasses to her one! LOL! Nice job Mary!
This glass turned out to be my personal favorite. I just decided to use random colored jewels in all different sizes.
Here are some of our completed wine glasses. I think they turned out great! We had a great evening full of fun and many, many laughs!
Cheers, or as Summer would say in her british accent Cherrio! (not sure if that is spelled correctly).