I was in the mood to make some mini albums after watching several YouTube videos. I found videos by following the paper trail and her designs are awesome and that's what inspired me to make these for Lana and her friends.
The covers are chipboard I covered in material. Thanks to Mary who colored all the little girls for me.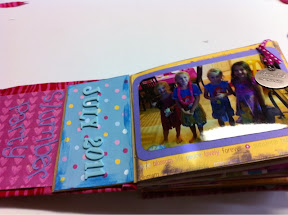 The mini albums were made using paper bags and have flaps and pockets that's where I put the tags In the next picture.
Each mini book I customized for each girl using more pics of them and the tags are double sided.
- Posted using BlogPress from my iPhone