Have no fear! your wait is over for the baby split paper bag album! I know everyone was waiting on pins and needles to see what I created (yeah right, I know) lol. Ever since finding out that my sister was expecting triplets I have had all sorts of ideas in my head and couldnt wait to create "something". So the first thing I created was this album.and sadly to say this is not for her (*snicker)hehe it is for me to put Aunt Marie's photos of the newbies when they arrive for my desk at work.
But I AM about to start working on an album/guestbook for her and for her babyshower. I am just waiting on a couple packages to arrive to start working on that album.
This split paper bag mini album is awesome and has more room in it for pictures than I ever thought it would so that was an unexpected bonus. If you want to know how to put this bag together view
this video by following the paper trail
, this is where I learned how to make this really FUN, SUPER COOL album.
Here are the pics!
On the cover I just put this fun little sticker and added a fancy flower I got at hobby lobby in the scrapbooking owl and some simple brown buttons.
For the binding on my album I simply used some canvas fabric I found at walmart. I got a quarter of a yard and just cut a strip to fit and hot glue it onto the album to cover up the edge.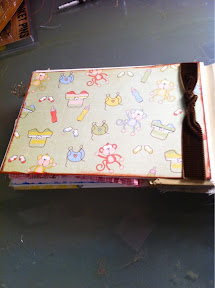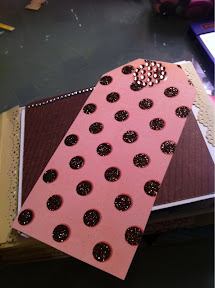 This was my favorite page to create as I got to play around with my glimmer mist! I am SOOOOOO addicted to that now.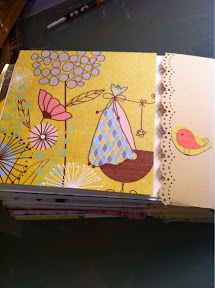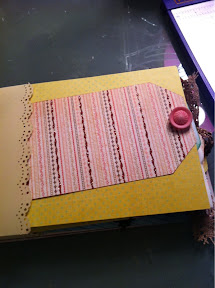 This tag I embellised with stickles.
For the most part I kept my pages and tags pretty simple since pictures will take up most of the spaces. When I get pictures I will probably embellish each page a little further.
This book has a total of 26 mats for photos, 8 pockets on the pages that holds tags, and 8 tag pockets. So you can possible put in 58 photos if you put pictures on both sides of all the tags! THATS WHAT I CALL ALOT OF REAL ESTATE!
Happy Mini Album Creating!
- Posted using BlogPress from my iPhone