Yesterday morning I woke up, sat outside in the nice weather drinking my coffee and then since everyone else in the house was asleep deciding to creep up to my scrapbook room and do some MUCH NEEDED ORGANIZING.
How this room ALWAYS manages to get into 1 giant mess is beyond me but it is a process that I should complete every month but I normally let it go and do 1 big organization every 3 to 4 months. In the months in between I normally just clean up the project I just finished with before starting a new one.
Since Kent is going out of town next weekend hog hunting I decided it was time to organize and get my room clean again in order to ready it to start some new projects next weekend. After all, I work MUCH better in an organized room and clean room I actually want to sit and be in.
Normally when we go out of town 4 wheeling or other activities and don't take Lana. Mom will come down and clean my room for me. Won't she be surprised in a few weeks when she comes that it is actually cleaned out and organized. (If the whirlwind I call myself and my scrappinn dont destroy it in the mean time) But this time I MEAN IT when I SAY IT'S GOING TO STAY CLEAN AND ORGANIZED.
Now on to the pictures!!
BEFORE!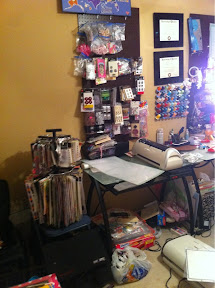 As you can see there is STUFF everywhere! One giant unorganized mess. See my cricut imagine sitting on the floor. I got the imagine back in March and used it once! Then when it was time for the scrapbook retreat I took it and USED it 90% of the time and LOVE IT! Now I used it ALMOST as much as my cricut expression, but the expression I still find I use the most because i have over 50 cartridges for it and not so many for my imagine (only 6 so far) Im waiting for cricut to relase more must have cricut imagine cartridges. You can use regular cricut cartridges for it too but the ones deigned for it I find more simpler to use.
Here is Lana's desk. Looks like mine. PILED WITH STUFF!
I had a small wall between the door to the room and the door to the closet which made for the perfect spot for my paper rack. to the right you can see piled up are my imagine cartridges. Since I have my regular cricut cartridges on my gypsy I dont keep those boxes in my scrapbook room they have been relinqueshed to the closet or my sister borrows them.
I cleaned up this area, and since my cricut mats were laying everyone with no home of their own, I hung them in some empty space in my room. One for my regular cricut mats and the other for my cricut imagine mats. And there on a fold up chair sits my clip it up filled with GOODIES. Most stuff on there I collect when they are half price at hobby lobby, on clearance, or from my favorite discount scrapbook site:
Peachycheap.com
. I set it on a fold out chair since i had extra space on that side of the room which saves my desk top for more stuff.
Over my desktops I have 2 pegboards that I got from home depot and spray painted chocolate brown to match my room. In my old scrapbook room blog I had my cricut cartridges on this pegboard, but now since I have the gypsy I dont need them out all the time so I have room for more STUFF. I keep my expression on top since I do use it more and put my imagine on the shelf below. There is room for the paper to come out the back on that shelf so when I use it I normally just sit on the floor and use it. I need to get more desktop space to keep it out on top somewhere.
In between the two pegboards I have my rack of thread for my monograming machine. I also hung up my 2 diplomas (BA and MBA). I like to veiw them when working in my scrapbook room. Then the other pegboard full of embellishments and my adhesives. I normally stock up on my favorite adhesives when they go on sale for half price.
My shelves full of stuff.
I made my own ribbon racks that costs all of $5 if that. I had room under my shelves so i bought 2 dowel rods at home depots and two brackets. I have 2 rows of ribbon and they are FULL. I even have my ribbon bag full and another bag full of spool ribbon. I LOVE RIBBON and use it on most projects. I love to stock up when it goes on sale at hobby lobby.Most of it ends up being $1 a roll. YOU CAN'T BEAT THAT.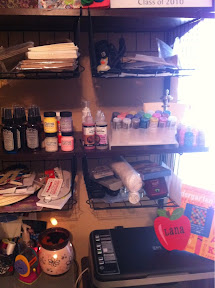 On the end of this shelve I put my wet embelishments: stickles, glimmer mist, all my glossy accents (glossy, sepia and crackle) and distress paints
On the bottom row on the other end of the shelf I put all my PROJECTS I have completed or most of them. The smaller ones anyway so I can look up and be "inspired"
These hanging racks I got at ikea for $2.99 and they are great and i can put more stuff in them. I have these in white in my laundry room.
Lana's desk is all clean and waiting for her next craft project. (which is completing as I type this blog, she is painting)
I was sneaky and got Lana's happy meal toys when she was done playing with them and put them on my second shelf. I thought they looked cute.
I love the strawberry shortcake McDonalds toys. I have this years set and last years. They remind me of when I was little.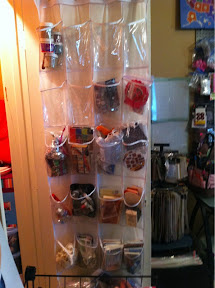 I cleaned out my shoe rack organizer on the back of my closet door and still have room left!
While it isnt QUITE organized how I really want it. It is much better than it was and I can't wait to get back up here and craft away! More projects are in the works!