Hello Everyone!! I woke up in a great mood this morning, all nice and refreshed so thought I would do a blog post this morning on the SMASH book I completed (and yes, maybe even started at 4pm yesterday). The sitter whom Lana went to for practically her entire life up to kindergarten daughter just graduated from college and had a great opportunity for her to go to spain for a few months. Her going away party is this afternoon so I racked my brain to think of something for a gift that she could actually use. (I typed the blog this morning but wont post till after th party JIC she views my blog, LOL).
So I thought a SMASH book would be perfect! She could jot down memories as she views the city, put in trinkets and notes and pamphlets she may get and they will all be contained into one book! (or if she fills this one up I can make her another one).
This is MY FIRST SMASH BOOK that I created. Smash books are all the rage in the scrapbooking world. You can buy them already made at
K & Company
. Click the link to see what a smash book is all about and even watch a TOTALLY CUTE youtube video. However; I think you can make way cuter ones yourself. Although the smash order page does have oher cute item I may order to put into mine.
I do want to buy a few of the smashbook pens though for my future smash books. They are super cool because they are marker on one end and glue pen on the other. I didnt have time to order one for this book because I waited until the last minute to think of something to make.
I was going to put the pictures of the competed album and the supplies that I used to create it in one post but thought that would be too long, so I am going to create another blog with just the supplies I used on this smash album.
This album turned out so CUTE and I am so addicted to SMASH books now, and about to start creating one for myself. As my JUNK drawer downstairs collects the types of items that I want to keep but normally don't get around to actually putting in my scrapbook along with the pictures. ie: life events with Lana such as movie stubs and other tidbits that I can quickly slap into my smash book randomly, add a quick note around it and then DONE a memory is remembered and fun to look at, and most
IMPORTANTLY
kept out off the junk drawer!
I bound the smash book with my cinch machine! but you can bind using all types of methods. I LOVE the cinch and you can get it for a great deal at hobby lobby if you use the 40% off coupon.
OKAY, without further ado here is the completed book:
SMASH BOOK-ESPANA EDITION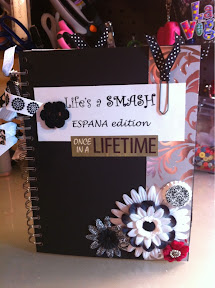 When I thought of spain I immediately thought black, white and red. Even though the spain colors are different I wanted to create a simple elegant smash book so her notes and momentos would clearly be the main focus of the book.
I bound it with my cinch and put a few ribbon down about 1/3 of the book.
I put some flowers on it, some I already had and some I got at hobby lobby. And if you know me you know I NEVER pay full price for embellishments or paper really unless I REALLY have to.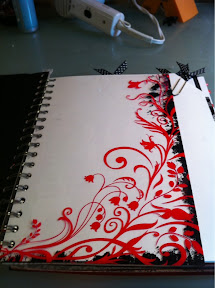 This was a clear acetate paper that coordinated perfectly with the colors for the book.
I added all sorts of different papers, plain cardstock, notebook paper, pattern paper, regular white computer paper, so she can have all types of papers to journal on or stick momentos on.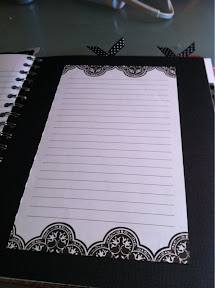 I got a journal for a $1 at hobby lobby that had about 75-100 pages of this cute paper that also went along with my theme. I just unwound that journal and took the pages out. Some pages I cut off the holes and stuck down to plain pages and then some I just put in the book as they were (see below).
I kept pages pretty simple since they will be full of FUN SPAIN things soon.
I love this page, one of my favorites in the book. Its a paperbag, and I cut it via the
split paper bag blog post
and only made one section and bound it into the book. Worked out perfect and created cute pockets and little joural and picture spots. (The paperbag I got at hobby lobby--where else right?! lol, for $1.99 fr 10 of these) I got them in the card and party section, they have all sorts of fun designs.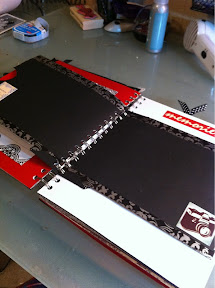 This is the inside of the paper bag section.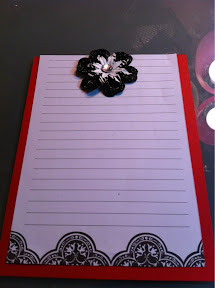 This is the tag that I fit into one of the two pockets the paper bag created.
This page I thought turned out cute as well. I used the dress form stamp I had bought to create my
dress form tag
for a youtube swap. And to tell you the truth. I NEVER thought I would use that stamp again, but SURPRISE it worked perfect for this SMASH book. I stamped it with emobssing ink and put some glittery red embossing poweder I had on it.
I also had a bunch of envelopes and cards, (guess from where, LOL) that I bought when on sale and the envelopes made for cute pockets for the book.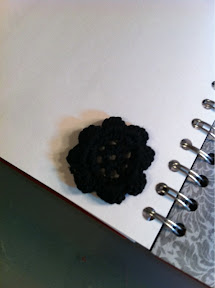 I was pleasantly
surprised
to see these crocheted flowers at hobby lobby (spare parts brand) in all colors. They are new and AWESOME! $3.99 for 6 but they go on sale ALOT!
Some pages I created pockets, this pocket I punched with my martha stewart lace border punch.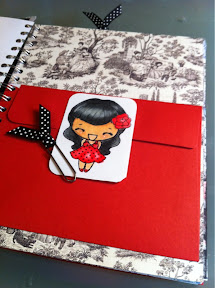 This is another favorite envelope page of mine! LOVE the little girl from the greeting farm that my sister colored with copic markers.
Another page with a side pocket this time.
I just cut this page into a fun shape.
This pocket I put a flower brad and just inked the edges of the pocket with red and black ink pads.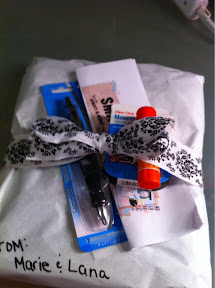 I just wrapped it in tissue paper and included with the book a pen, glue stick and some double-sided mounting squares. (After I took the picture I added a red fine point sharpie marker I had just bought with the limited edition 80's glam set)
OOPS!! I just hit publish instead of save! I don't think she will view it before the the party! LOL
-Happy SMASHING!!