For a friends son's 3rd birthday i made this quick birthday card. I used my create a critter cartridge to cut out the dragonfly at 4". I then used stickles to make him sparkle. Then I cut strips of solid paper and ran them through my embossing design tools.
And then put a ribbon in the card. The inside I made pretty simple.
I cut out a 3 from my cricut imagine using the blast off cartridge and then because i was short on time printed the happy birthday from my computer.
I also made these fun cupcakes for his birthday.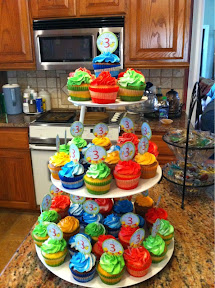 - Posted using BlogPress from my iPhone