Thursday was the 2011 annual scrapbook convention I look forward to each year. It comes at the perfect time each year because normally 1 or 2 months later is Mary's and I's big scrapbook retreat! This year its the first week in August, 4 whole days of scrapbooking YAY!! (at Hobby House Hill in Bowie, TX). I apoligize in advance for the random pics and the ton of other pics ( haha).
Me at the convention.
Random pic. I was sitting in line waiting for the doors to open. Had an hour to kill. Thought my shoes were cute ( an awesome score at Kohls).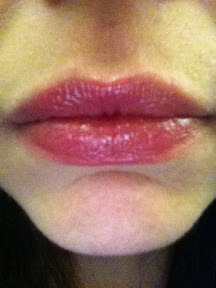 Another totally random pic. I borrowed Mary's lip gloss and she said oh thats pretty and pink. So I took a picture. The picture below is of the lip gloss.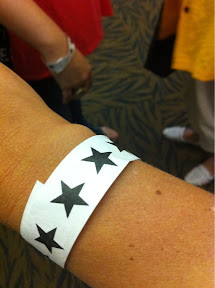 Picture of our bracelets to get into the convention 1 hour early (only an extra $3, and worth it!) You can even see Mary's bracelet in the background.
The 2 pictures above were of a flower make and take we took. They are simple to make and look so darn cute.
These rings were a score at one of the booths. I use these all the time when I am making chipboard books or other mini books. They were 40 for only $4.00 a great price, so I stocked up and got $12 worth. (that should last me awhile). the picture below is a book I plan on making with them for Lana and maybe some of her friends.
Beach ball book. This beach ball book was adorable and I plan on making one for Lana's pool pictures. the inside is really cool too, we weren't supposed to take pictures of some items (like this book) but my sneaky pix app came in really handy! :) hehe. I took more pics (but they are not that good because i had to take pictures fast and on the fly), so I am going to make my book then post better pictures. (check back in a few weeks for a full blog tutorial on how to make this book).
The pictures below are the pics of my Haul (stuff I got at the convention).
The picture above is for some really neat glue that you can make all sorts of stuff with. you let it dry overnight on wax paper then you can make flower rossets for pins, hairbows, or scrapbook layouts (see picture below). When I make some of these I'll post a blog on how to make those too so stay tuned.
The picture below is a chipboard mini book that was only $1
The stickers below were also $1 a pack.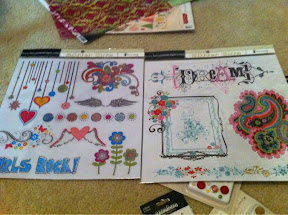 the paper pack has over 100 sheets of paper in it and was only $10, I got this school pack because it had great papers in it and Lana will be starting Kindergarten this year!
Stickers below were all $1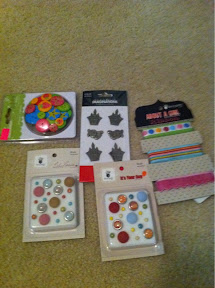 The picture below is of a neat little caddy i got for all my stickles! you can store them upside down so they are ready to use when you need them.
I had a great time at the scrapbook convention and scored some great stuff. I can't wait to make some new projects and layouts. Stay tuned for later blogs on some tutorials with stuff I got at convention.
Happy Crafting!
- Posted using BlogPress from my iPhone