This post is just of random daily fun photos! I'm in the process of getting pictures and taking pictures for posts this week: ice-cream cakeballs and the beach ball scrapbook album(this may be up in a couple weeks have to gather a few more supplies
)
Picture below of Lana and her coffee while sitting on the back porch one morning. She had to have her coffee like momma.
Me and Sofie. She was pooped after spending 4 hours at the groomers.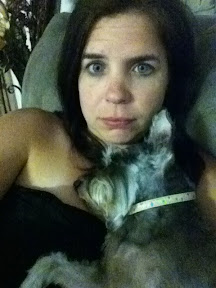 When we went to drop off my 4 wheeler to get fixed Lana found one she likes.
Lanas pretty princess nails
Banana pudding shake from chic fil a. It's soo good. It's probably a good thing that they are changing the flavor next month. I've had one the past 3 days. Lol.
My friend texted me this sign she saw while at a cupcake shop. I love the saying.
My cute "sparkly" bow I found at Sam moons.
- Posted using BlogPress from my iPhone