When I got off work yesterday I was browsing through Facebook and a friend of mine posted a link to the rice krispy website with this affordable pops on there.
To cut down on time and probably money buying all the ingredients I saved time by buying the pre-packaged crispy treats.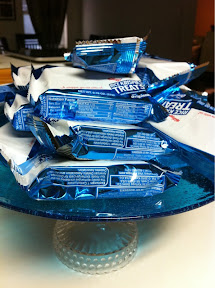 I opened all the treat then took a knife and rounded the tops to look like Popsicles then put in the sticks.
Next step melt chocolate. We melted both milk and white chocolate.
Then for Lana the fun part: dipping and putting on sprinkles.
I had a huge 2 1/2 gal bag of sprinkles to choose from.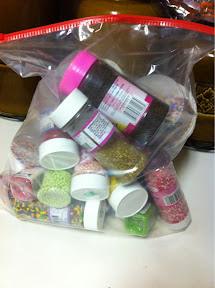 Lana picked these: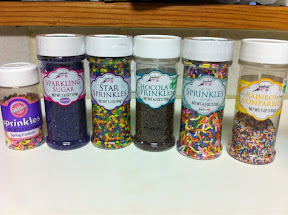 So we dipped them and put sprinkles on them and placed them in the refrigerator until the chocolate set. (just a few minutes) or however long it takes to clean up the kitchen after making them.
Since these were traveling to daycare I packaged them up and added a cute bow.
They were a big hit with the kids and the few I took to work for some co-workers.
- Posted using BlogPress from my iPhone